In addition to the main technical program, the conference includes lunch-time and evening special sessions on industry, education, emerging topics, and funding opportunities. An overview of the sessions is shown below.
Time 
Wednesday, July 1
Thursday, July 2
Friday, July 3
12-13:00

An Overview of NSF
Programs
IEEE women in controls

Quantum Information
Systems and Control

13:30-15:30

Workshop for Elementary,
Middle and High School
Students, Teachers and
Parents (a)
IEEE women in controls in
industry (a)
NREL's control research

Andrew Packard
Memorial– Technical (a)
Promoting Access for Under
-represented Groups in STEM
Graduate Disciplines

16-18:00

Workshop for Elementary,
Middle and High School
Students, Teachers and
Parents (b)
IEEE women in controls
in industry (b)

Andrew Packard
Memorial – Memorial(b)
Proposal Writing-NSF
Student Career Advising
An Overview of NSF Programs – Wednesday July 1, 2020 – 12:00-1:30pm
Sponsor: National Science Foundation
Organizers: Irina Dolinskaya
Speakers: Radhakisan (Kishan) Baheti, Jordan Berg, Irina Dolinskaya, Robert Landers and Eduardo Misawa
Abstract: The National Science Foundation (NSF) offers a number of funding opportunities for investigators working in the field of controls, both within the disciplinary programs in Engineering and other directorates, and through cross-cutting initiatives that are foundation-wide. This presentation will describe opportunities that are relevant to the robotics, dynamics and controls communities. The presentation will also describe programs targeted toward junior investigators, as well as guidelines for proposal preparation and NSF's Intellectual Merit and Broader Impacts criteria.  Question-and-answer session will follow the presentation.
(This is a brown bag lunch meeting.)
Women in Control Luncheon Meeting – Wednesday July 1, 2020 – 12:00-1:30pm
 The IEEE CSS Women in Control committee is responsible for, but not limited to, promoting membership, gathering and disseminating appropriate information about women in IEEE CSS and the profession, and facilitating the development of mentoring and programs to promote the retention, recruitment, and growth of women IEEE CSS members. The IEEE WiC invites all ACC women attendees to join us for our traditional luncheon with interesting speakers on the first day of the conference, Wednesday, July 1st, 2020.
Workshop for Elementary, Middle and High School Students and Teachers and Parents – Wednesday, July 1, 2020 – 1:30-3:30 pm and 4:00-6:00 pm
 Celebration of 20th Anniversary of the Outreach Program in Control
 Title: The Power, Beauty and Excitement of Cross-Boundaries Nature of Control, a Field that Spans Science, Technology, Engineering & Mathematics (STEM)
 Co-Organizers: Bozenna Pasik-Duncan (University of Kansas), USA, Linda Bushnell (University of Washington), USA, Tyrone Duncan (University of Kansas), USA, Anthony Rossiter (University of Sheffield), UK
Program Committee: Members of AACC Technical Committee on Education, IFAC Technical Committee on Control Education, and IEEE CSS Technical Committee on Control Education
This outreach event is designed to increase the general awareness of the importance of systems and control technology and its cross-disciplinary nature among students and teachers. Control is used in many common devices and systems: cell phones, computer hard drives, automobiles, and aircraft, but is usually hidden from view. The control field spans science, technology, engineering and mathematics (STEM). The success of all STEM disciplines depends on attracting the most gifted young people to science and engineering professions. Early exposure to middle and high school students and their teachers is a key factor. The goal of these outreach efforts is to promote an increased awareness of the importance and cross-disciplinary nature of control and systems technology.
Workshop activities include presentations, informal discussions, and the opportunity for teachers and students to meet passionate researchers and educators from academia and industry. The talks are designed to be educational, interactive, motivating and inspirational showing the excitement of STEM education.
Presentations include:
What is a Control System and Why Should I Care? Daniel Abramovitch – Agilent Technologies
Stepping Inside the Brain Using Virtual Reality Dominique Duncan – University of Southern California
Risk-Aware Performance Metrics in STEM Tembine Hamidou – New York University
Efficient Wind Energy Systems – How Control Methods Can Enable a Clean Energy Future Lucy Pao – University of Colorado Boulder
How to Design a Self-Driving Car OR Synthetic Biology: How to Program a Bacterium Richard M. Murray – California Institute of Technology
STEM is for Everyone! Ramla Qureshi – Women Engineers Pakistan
Women in Controls in Industry – Wednesday, July 1, 2020 – 1:30-3:30pm and 4:00-6:00pm
Organizers: Dr. Selina Pan, Toyota Research Institute (selina.pan@tri.global), Dr. Marcello Canova, The Ohio State University (canova.1@osu.edu), Dr. Mahdi Shahbakhti, University of Alberta (mahdi@ualberta.ca), Dr. Yan Chen, Arizona State University (yanchen@asu.edu), Dr. Carrie Hall, Illinois Institute of Technology (chall9@iit.edu)
This workshop is sponsored by the Automotive and Transportation Systems Technical Committee and the Energy Systems Technical Committee of the ASME Dynamic Systems and Control Division (DSCD). 
Abstract: Academic research and industry development have a symbiotic relationship. The insights gleaned from academic research can be propagated into usable products and technologies by companies. The practical problems identified in industry can also inspire and develop new academic research topics and areas and these new areas of research and development can be explored jointly. This cycle and relationship is key for researchers to understand and to participate in. To facilitate these connections, every year, the ASME Dynamic Systems and Control Division organizes an industry special session at a major controls conference. Nowadays, both academia and industry host increasingly diverse communities. These communities consist of researchers, engineers, teachers, programmers, and managers, and their members are thriving from many different backgrounds. A historically underrepresented group has been female engineers and engineers who identify as women. (For the purposes of brevity for this proposal, we will use the term "women" going forward.) This session seeks to bring together both the importance of exposure to parallel work happening in industry, with the diverse people who are doing the work, to the American Control Conference. Academia is taking increasingly large strides to increase diversity in both its student population as well as its faculty. Industry is doing the same, in both similar and diverging ways, with efforts ranging from recruiting, changing hiring practices, evolving performance review processes, workshops in unconscious bias, employee resource groups, and setting diversity and inclusion as a company-wide initiative. The speakers featured in this session have a variety of technical experiences and we aim to, first and foremost, focus on their technical work and present a wide array of different career paths.
The purpose of this is twofold: 1) to showcase some of the current cutting-edge work being done in industry in controls, and 2) to demonstrate examples and inspire junior women researchers who may be looking for a broader range of career paths. The session will feature both a series of technical talks, as well as a panel discussion that will be moderated and open to questions from the audience, in order to provide room to discuss potential non-technical topics unique to the experience of being a woman in controls in industry. This special session is sponsored by the Automotive Transportation Systems and Energy Systems Technical Committee. The proposed list of speakers consists of engineers from the following companies: RightHook Robotics, Tesla, Applied Materials, Built Robotics, Waymo (Google), Ford, Toyota Research Institute, General Motors, and a stealth robotics startup.
Schedule (subject to change depending on time slot)
1:00 – 1:20 PM Dr. Madeline Goh (RightHook Robotics)
1:20 – 1:40 PM Dr. Caroline Le Floch (Tesla)
1:40 – 2:00 PM Dr. Raechel Tan (Applied Materials)
2:00 – 2:20 PM Dr. Sarah Thornton (Built Robotics)
2:20 – 2:30 PM Break
2:30 – 2:50 PM Dr. Xin Zhou (Waymo)
2:50 – 3:10 PM Dr. Sara Dadras (Ford)
3:10 – 3:30 PM Dr. Ankur Ganguli (GM)
3:30 – 3:50 PM Laura Stelzner (Stealth Robotics)
3:50 – 4:10 PM Dr. Sarah Koehler (Toyota Research Institute)
4:10 – 4:20 PM Break
4:20 – 5:00 PM Panel Discussion
Special Technical Session in Honor of Professor Andrew Packard – Thursday July 2, 2020 – 1:30-3:30pm
Andrew Packard passed away on September 30, 2019 after a valiant fight against cancer.  This session is a celebration of and tribute to Andy's many contributions to our field.  His career was marked by profound and influential results including foundational theory for structured singular value analysis and linear parameter varying systems. These results provide a framework for designing automatic control systems, e.g. autopilots on aircraft, in the presence of model uncertainty.  One of Andy's key contributions to our field was to transition these theoretical results from academic examples to fully functional software.  In particular, Andy and his late colleague Gary Balas co-authored the Robust Control Toolbox in Matlab. This software is widely used by academics and practicing engineers all over the world for control system design.
Session chairs: Pete Seiler and Eilyan Bitar
John Doyle, California Institute of Technology, Title: Robustness Analysis, Synthesis, and the Structured Singular Value
Abstract:  This talk will review Andy Packard's early contributions to mu analysis and synthesis, starting with the paper "Design examples using mu-synthesis: space-shuttle lateral axis FCS during reentry" by Doyle, Lenz, and Packard that appeared in the 1986 CDC.  The research for this paper was done primarily at Honeywell Systems and Research Center (HSRC) starting in 1984.  This was one of the first case studies using both mu synthesis and real parameter uncertainty, at a time when the algorithms for both were in their early stages.  His thesis in 1987 was "What's new with mu: Structured uncertainty in multivariable control."  He frequently visited Honeywell and Caltech in 1985-1988 where he began a lifelong collaboration with Gary Balas, leading to widely used toolboxes and many popular short courses.
Fen Wu, Title: Overview of Linear Parameter-Varying Control Research
Abstract: Linear parameter-varying control, since the pioneering work by Andy Packard, has become one of a major research field with numerous applications. In this talk, we will review some major achievements in linear parameter-varying control research and outline the contributions from Andy's research group.
Pete Seiler, University of Michigan, Title: Software Tools for Robust Control
Abstract: This talk will cover Andy's contributions to numerical methods and software for the analysis and synthesis of robust controllers.  Andy and his late colleague Gary Balas co-authored the Robust Control Toolbox in Matlab (with the support of many others) starting in the late 1980's.  This talk will summarize Andy's contributions to this toolbox including his work in recent years. This recent work included methods to alleviate numerical issues associated with computations of real structured singular value and H-infinity optimal control.  He also developed software to compute single and multi-loop disk margins.
Murat Arcak, University of California, Berkeley, Title: Compositional Analysis for Interconnected Systems
Abstract: This talk will present joint work with Andy Packard on certifying stability and performance of an interconnected system using dissipativity properties of the subsystems. We will first review semidefinite programs that aim to verify these properties using a conical combination of several dissipativity certificates known for each subsystem. We will then take a more exhaustive approach and present a large-scale optimization problem that simultaneously searches for relevant subsystem dissipativity properties.
Ufuk Topcu, University of Texas at Austin, Title: Quantitative robustness analysis for nonlinear systems: A fight with Andy against bilinearity
Abstract: The talk focuses on quantitative methods for local robustness and performance analysis of nonlinear dynamical systems governed by polynomial vector fields. These methods quantify a system's robustness against uncertainties in initial conditions by computing invariant subsets of regions of attraction and against external disturbances through local reachability and gain analyses. The resulting optimization problems typically suffer from the curse of bilinearity. I will overview several techniques Andy Packard and I developed in order to alleviate the implications of this curse.
Kate Schweidel, Emmanuel Sin, Galaxy Yin, University of California, Berkeley, Title: Andy's legacy in teaching, mentoring, and education
Abstract: In this talk, three of Andy's final students will describe some of the projects Andy worked on in the past 2-3 years. First, Kate Schweidel will present a classifier-based supervisory control method applied to missile intercept problems. Next, Emmanuel Sin will present on dynamic game theory applied to multibody missile defense systems. Finally, Galaxy Yin will discuss finite horizon reachability analysis and control synthesis for polynomial systems using integral quadratic constraints. In addition to highlighting his final research contributions, the students will discuss Andy's teaching and mentorship.
Promoting Access for Under-represented Groups in STEM Graduate Disciplines – Thursday July 2, 2020 – 1:30-3:30pm
Overview: This session consists of four presentations that addresses successful academic and professional practices that support completion of a STEM graduate education and transition to the professoriate for under-represented groups.
A motivation for the session is that the demographics in the U.S. is changing but noticeably, the number of graduate degrees in STEM disciplines remain unpopulated by this change. To meet this rising change, professional societies and academic institutions must embrace systematic and thoughtful changes in how access is provided, how practices are implemented, and what policies are crafted.
This session is intended to serve three purposes: (i) present the challenges faced by under-represented groups at the graduate level, (ii) provide examples of programs and/or procedures that bolster graduate education in STEM disciplines, and (iii) have an open dialogue about the difficulties of instituting systemic change at the professional society, academic institution, college, and department levels.
Karlene Hoo (Gonzaga University), "Brief Opening Remarks to Introduce the Topic"
Bozenna Pasik-Duncan (University of Kansas), "STEM Education of Tomorrow"
Martha Grover (Georgia Institute of Technology), "Graduate Training for Equality in Under-represented Academic Leadership"
Karlene Hoo (Gonzaga University), "Pathways to Support STEM Graduate Education for Indigenous Communities"
Bonnie Ferri (Georgia Institute of Technology) and Leslie Sharp (Georgia Institute of Technology), "Hiring and Supporting a Diverse Faculty"
Memorial Session: Personal stories and Remembrances – Thursday July 2, 2020 – 4:00-6:00pm
Session Chair: John Doyle
This is an unstructured session where speakers will share their personal memories of Andy Packard. Brief talks by John Doyle, Pete Seiler, Eilyan Bitar, Johana Sedman-Packard and family. There will be an open microphone for attendees to make their own remarks. Refreshments and cookies from Scenic Made courtesy of the Packard Family.
Getting Funded by NSF:  Proposal Preparation and the Merit Review Process – Thursday July 2, 2020 – 4:00-6:00pm
Sponsor: National Science Foundation
Organizers: Irina Dolinskaya
Speakers: Irina Dolinskaya
Abstract: So, you think you have a great research idea, now how do you get funding from the National Science Foundation (NSF) to do the work? A well-scoped and written proposal is instrumental to successful submission. This session targets junior faculty and researchers who might be new to NSF and describes detailed guidelines and practical advice for proposal preparation. The presenter will go over NSF review process and Intellectual Merit and Broader Impacts criteria, as well as share most common mistakes made by the Primary Investigators when submitting a proposal.   Question-and-answer session will follow the presentation.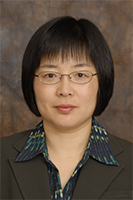 Vice Chair for Special Sessions
Dongmei "Maggie" Chen
University of Texas at Austin
dmchen@me.utexas.edu